An organic & sustainable but affordable t-shirt in a huge range of colours & sizes from XS - 6XL. Build your brand by adding screen printing, vegan & PVC free heat transfer vinyl, or embroidery. This Organic T-Shirt from Anthem is perfect for band merchandise & for brands looking to bring their business into 2021. A fashion fit with ribbed collar & taped neck. Side seams to help the t-shirt maintain its shape after washing & a taped neck to reinforce the neckline. Twin needle stitching & unbranded so you can add your own neck label! 
Suitable for Heat Transfer Vinyl, DTG & Screen Printing.
We also offer screen printed neck labels if you're looking to up the value of your brand.*
Weight 145gsm
Sizes may vary depending on the colours selected.
Garment sizes are approximate and for guidance only.
Colour representation is only as accurate as the web design process allows.
Country of origin: Bangladesh
*Minimum order of 100 items.
| |   XS |   S |   M |   L |   XL |  XXL |  3XL |  4XL |  5XL |  6XL |
| --- | --- | --- | --- | --- | --- | --- | --- | --- | --- | --- |
| Size: |   XS |   S |   M |   L |   XL |  XXL |  3XL |  4XL |  5XL |  6XL |
| Chest (to fit): | 30/32 | 34/36 | 38/40 | 42/44 | 46/48 | 50/52 | 54/56 | 58/60 | 62/64 | 66/68 |
Let us know where you would like each design by selecting the appropriate choice from the drop-down menus above. 
If you would like text-only printing & embroidery - Please let us know your font preference, thread colour preference or vinyl colour preference in the text box provided. Information on our available options here.
If you're uploading multiple logos for printing or embroidery, please make sure to save and rename the logo or design in reference to the position you require it, for example, "Front" or "Back" before uploading them. 
If you would rather send over the artwork via email, social media or just talk things over then give us a shout on the details below: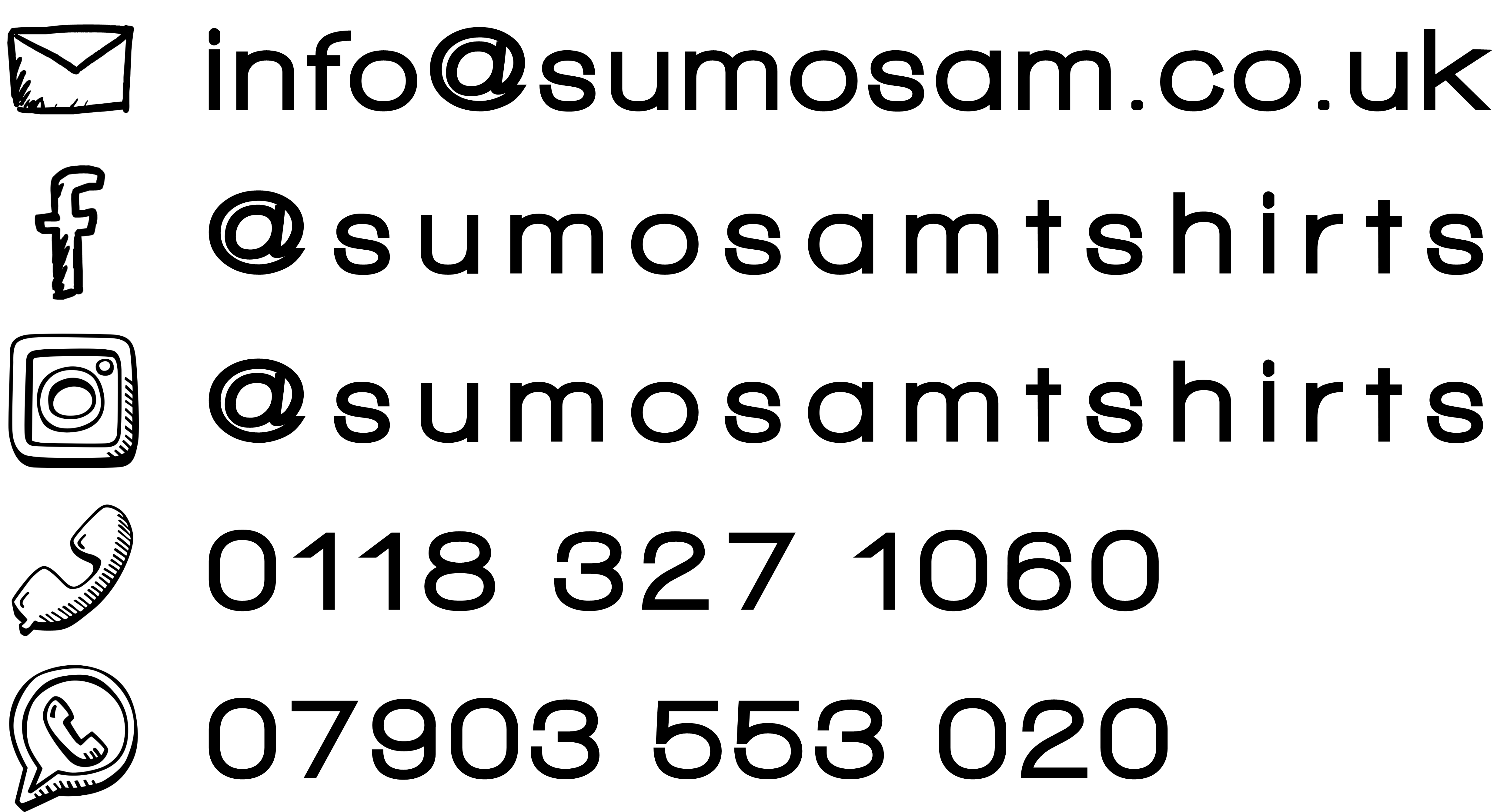 We are a custom printing & embroidery specialist and everything is made to order. This can take time as we like to make sure everything is done correctly. We're your one-stop business shop and because we are committed to becoming more sustainable as a business, we will despatch everything in one parcel unless you specify at the time of purchase. This means that sometimes your order can take 2-3 weeks before despatch but we will be able to ensure you receive a mockup before we customise anything to avoid waste. If we do somehow make a mistake or something doesn't pass our quality checks, you will receive it free with your full order. 
Our deliveries are carried out by DPD who are committed to having a fully electric fleet of delivery vehicles. Once your order has been despatched, you should receive an email with your DPD tracking information and estimated delivery date. On the day of delivery, you will receive a one-hour time slot, so your life won't need to be disrupted for a whole day. 
Once an item has been customised in any way, it is non-returnable so please make sure you double-check your order confirmation & let us know if there's anything you need to change. You will also receive a mockup 1-2 days after your order has been placed via email; this ensures no mistakes are made & everything is how you imagined it would look.
Size guides are always approximated & it's always best to try one before you buy 10! If you're unsure about anything then please give us a shout on the details below: